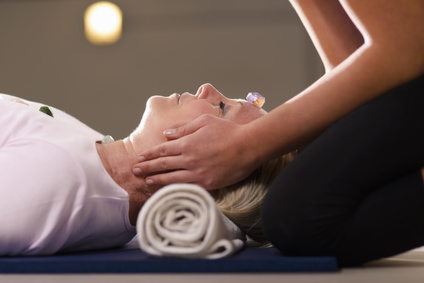 Hello Yogis.
Let the stress melt away as you lie back and relax completely.
This evening has been so well received in the past, due to demand, I have decided to bring it back.
Reiki Healing is an energy healing practice, that can be used as an effective tool for:
* Reducing stress
* Increasing your energy
* Insomnia
* Anxiety
* Depression
* High Blood pressure
* Compliments conventional medicine in the treatment of injuries and medical conditions.
Reiki can be delivered with hands on or through a hands off approach so I won't place my hands on your body, unless you consent for me to do so.
I have found Reiki to be a very reassuring and restful experience It will help your body to restore a more harmonious energy flow, thereby encouraging deep healing at a pace your higher self is ready to receive.
You will lie down on your mat, cover yourself with your blanket and enjoy distance Reiki, while music plays softly. I will also come round and spend a few minutes with each person, to deliver Reiki directly. Be assured you will be receiving Reiki throughout the session.
Should you wish to join us for the yoga class that runs just prior to the Reiki relaxation, pricings will be as follows:
6.30pm-7.45pm - Yoga only £9
6.30pm-9.00pm - Yoga and Reiki £20
8.00pm-9.00pm - Reiki Healing only £15.
Venue: Church of the Holy Trinity, Balmoral Road, NN2 6PQ
Please do contact me to book your place, either by PM or via 07984191016 or carrieanne@yogafreedom.co.uk. Paypal or Bank Transfer options available for payment on request.
Due to the demand for this evening, if you would like a place, I am asking for payment prior to the event so that I can ensure the spaces are filled.
Limited to 10 People.
Warm regards
Carrie-Anne.
www.yogafreedom.co.uk