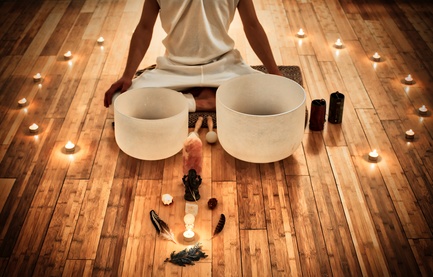 October 30th 6.30-9.00pm
I am so excited to be sharing this transformational evening with you!
The evening will begin with a Chakra Balancing Yoga Sequence, where we will work through the Chakras, one posture at a time, using mantra, visualisation and the vibration of the breath.
Following a short break, you will be invited to sit for a while, where I will work with a soothing pranayama breath, that will continue the vibrational healing. 
Once your body is ready, you will lie down and I will bath the room in sound using Quartz Crystal Singing bowls, to align your inner energy and to bring about a sense of deep peace. 
Finally you will rest in silence, to allow your body to balance and restore.
The evening will consist of 2 journeys, to enable you to choose to attend both or one of the journeys. Each journey will be complete in itself.
6.30pm to 7.45pm Chakra Balancing Yoga - £9 Drop in.
7.45pm-8.00pm Tea and Biscuits - FREE
8.00pm-9.00pm Crystal Singing Bowls to Silence meditation - £15
Attend the whole evening £20
Please do contact me to book your place. Paypal payments can be sent to carrieanne@yogafreedom.co.uk. Please state the event you would like to attend. 
You can also pay via Bank Transfer on request.
Payment is required to secure your place.
With warmest wishes.
Carrie-Anne.