Most of us, if we were to be asked that question, would immediately say "yes, of course!"
But do you really?
Despite my many years of Yoga and meditation, and thus the greater sense of connection that I have towards my authentic Self, I have been surprised to find that owning an old VW Campervan has helped me to realise, more than ever before, the conditioning I am subjected to daily and my subsequent inner reactions towards that conditioning.
I use my campervan, 'Baloo' every day, to run here and there, delivering regular daily yoga classes, in and around Northampton.

This lends me to be out on the roads, at all times of the day and night, and to be driving on both quiet country roads and the main A45 route around the town.
Despite his age, 'Baloo' does not dither, he can comfortably sit at 70 on the carriageways and he feels responsive and safe to drive.

He does however, ask for a little tenderness when changing gears so I am aware that he needs to be driven with slow consideration and with a more mindful approach. Reaction times are reduced as he is not as responsive as a modern car or van.

Please be calm!
This has meant that I have come to experience more than my fair share of impatient drivers on the roads of Northampton. As I see a driver screeching past my ears or cutting in front of me as I exit a roundabout, I have had to, on many occasions, hold my breath and hope for the best.
This can as you may imagine lead to a little anxiety and concern each time I experience it.

Roundabouts are the worst, where people panic and try desperately to get past me, thinking they will be stuck for ages. Little do they know that we keep up nicely with all speed limits, with no problems at all!
When I first started driving 'Baloo', I would feel pressured to move along with the rest of society as some drivers weave in and out and push up behind me, with aggression and intimidation.
Please show compassion!
I would feel their presence, their intention and their aggression weighing on me and fear would rise.
Just because 'Baloo' is a little slower to move away from junctions and is generally driven in a considered and mindful way, I regularly feel as if I am being forced off the road, (quite literally in some instances!) as if society can no longer accommodate the differences around us. We all have to be rushing and tearing about, head ahead of the moment and heart in our throats!
Over time, my resilience has built and the sense of joy I have when driving 'Baloo'; remembering the many years that I wanted to have him, all dressed with my logo and my hippie flowers, have persuaded me that I need to stand firm and rise above the agitation of others. Their wants and needs are different from mine and I am well within my rights, to be who and how I wish to be.
I remind myself that I do not hold up traffic. I am aware that reaction times are lessened so I drive with even more awareness of everything around me than I used to before and I feel that owning 'Baloo' has made me a far better driver. I have always loved driving and have been a good driver but he has enriched this experience for me.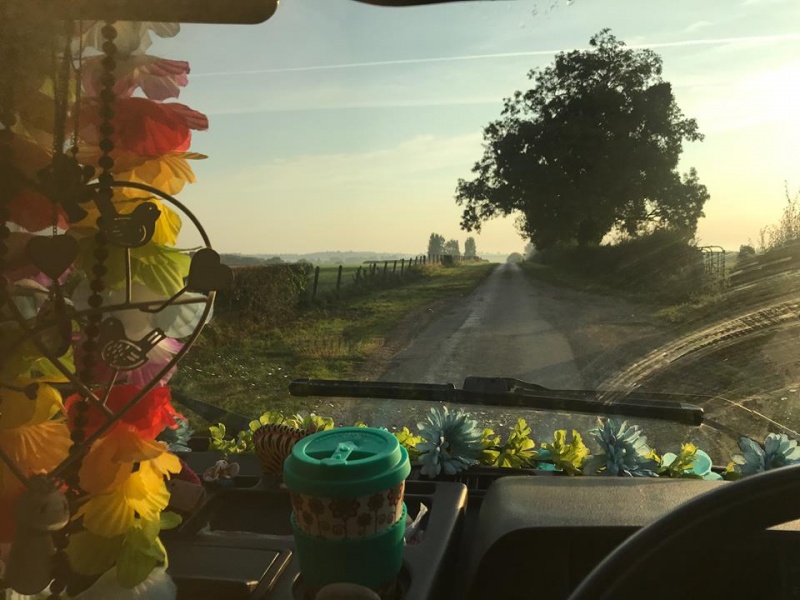 Feels like home!
I sit back in his fur covered seats, with his large steering wheel and the large window in front of me, listening to the smooth hum of his engine and the feeling of space around me, and I have found my space.
This world has become so fast, so high tech, so impersonal and is intent on moving towards 'achievement' rather than allowing a sense of 'being'.
'Baloo' has the power, more instantly than anything I have experienced, to bring me back to the present moment, to rise above my in-ate feelings and reactions and to ground myself in the here, and the now.
He literally is a driving meditation, where I am fully aware, fully present, and fully relaxed as I drive.


Everyone has the right to find their special place and to express who they are! If you feel that a deep desire of yours does not fit in with the norm; as long as you are being kind to yourself and others, there is no reason on Earth why you shouldn't enjoy every second. It is the most beautiful feeling.

Remember to wave!
The next time you see Baloo, please offer him some space, take a moment to connect to the moment. Who knows what you will find there!
With lots of love, Carrie-Anne. xx